Happy New Year, everyone!! 2019 was certainly an amazing year for me. I had a few of firsts of my life that finally happened this year and when I looked back and think of 2019, I think about many important events and beautiful memories.. and I am forever grateful for it! Here is a little recap of last year..
I started the year with my man and his parents together, celebrating NYE and the first hours in 2019. While it was a really fun night, I had exam anxiety already in the morning, facing the fact that it was 2019, the last year of college and that my college has had come to an end. I was totally stressed out with all things college, and prior to a term paper and exams, but looking back to this post, I am glad that all of my plans and dreams came true as expected.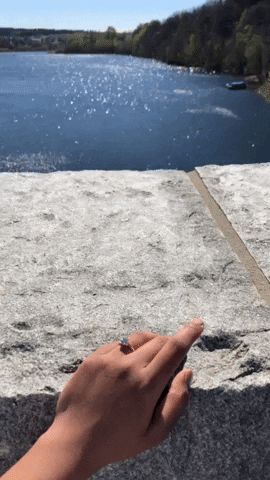 This month nothing much happened, for the most part, unless me being prepared and focused on my exam that due in the third week of February. I remembered I had so much to do and so little time for literally everything, and at the same time my life felt like a mess somehow. All I wanted was getting my exam done with a good grade and just perform well as planned. I felt like I was totally under pressure with all things finals, and all I did was reviewing for exam all. the. time. That month my man bought me a gorgeous diamond ring for Valentine's Day, which is so nice of him (that actually helped me to cope with exam stress lol)! In terms of weather, I believe spring was already in the air and that being said, no more sweater weather (at least I thought it was over) for the month!
— March —
Unfortunately our car broke down so we had to sell it and pick up a new one. It was two exhausting weeks finding the one we love and when we did, we just drove there by train and it's the perfect one indeed! We were beyond excited! We also had our very first Starbucks Date somehow that month (can't remember what we actually ordered there) but we were pretty sure that it's not really our thing (we are not a fan of this huge crowd there, rather cozy and peaceful cafe). March was also the first month last year of posting one blog post for the whole month because at that point this blog situation was kinda too much for me to handle with exam that was going on. That sucked, but priority comes first!
This month marked the last day of school EVER! I had to share the picture of cupcakes I made on the last day of school because I LOVE baking for my friends and have been doing it every year for the class. So the fact that the school was almost over made me quite bummed out, though we still had the whole two months ahead for another exams, so actually it was not really over yet. It just felt pretty surreal for me not studying every week again but to review for an exam only, over and over again! My man got his first reading glasses ever, which was kinda strange to us at first, but looking back the past months, it turned out that he has been wearing it like two to four times a month, or whenever he needs to read something, so that's totally okay!
May was finally here and it's one of my favorite months! I love the fact that both our birthdays fall into this month, and summer was almost there. That month I decided to get a skin prick test due to my keratosis pillars to look for another potential allergies and turned out I am allergic to dust mite! I studied so hard that month, I even barely watch tv or being online anywhere (as you might notice, no blog post in May available here).
I have done my written exams at the end of that month, which went very well (I was totally grateful for the great exam/patients situation that day at the hospital).
So I was
delighted by the result! It was indeed a lovely month for me personally.
In June I had a tooth extraction, which grew in front of another tooth and had been bothering me since high school. I have done the rest of my exams, which was extremely exhausting and I low-key enjoyed the last days as a student after that. My man wanted a summer haircut and insisted on me cutting his hair off, which ended shaving his head bald, so.. apparently I have absolutely no talent for that. Haha! And I finally had my very first appointment for facial treatment and it was an amazing experience! I was feelin' myself for sure. And since, I make sure to go there for my own self-care regularly. June consisted of few summer picnic dates as well so it was clearly another amazing month of 2019.

— July —
At the beginning of the month I got my very first short haircut in my life ever to celebrate my graduation. It has never felt so good! I graduated from school (finally!) and officially becoming a professional. July marks the last time of the longest summer break in my life before settling into the working life. I also started painting again, and have done romantic summer picnic dates at the local park with Ricky more often. It was a lovely month for me personally, because I got to relax, unwind a bit and enjoy my transition month as soon-to-be full time employee. Summer 2019, you have been so good to me!
In August my whole world turned around. I finally started my very first job EVER, we drove to Vienna in the last week of August to see Rammstein in concert, which also happened to be my very first concert (and ours) ever, and the first time visiting Austria. I never thought this band would be the first I'd see in concert at all, and it was the game changer for me! I loved it and everything about this experience.. I still get goosebump thinking about it. We walked around Prater the next day and drove back home afterwards. It was a nice weekend gateway after three years of not having holiday at all!
In September I decided to get myself a MacBook Pro I've always dreamed of (so happy!!), my very first knee-highs boots and another analogue camera (which I actually use 'till now). I would say September was the actual month of adapting to a new environment - a new workplace, a new life kinda. I needed to create new habits here and there due to my job, but I think it's a great sign for me personally, in a positive way. That means something good happens and I'm able to improve my work performance and work-life-sleep-balance! And luckily I managed to handle these changes in my life pretty well. I felt very content, humbled and blessed (still am) by this opportunity of working and living here in Germany.
In October we got our automatic coffee machine for Christmas (early I know), celebrated our 4th anniversary at a local Mexican restaurant (with a big pan full of foods and cocktails!) and got my first roll of films that came out beautiful! I couldn't really remember what I/we did at that month (weird because it was just three months ago!!) but I remembered the good vibes and I knew how much I enjoyed my life that month!
In November a very good friend of mine visited me in Germany all the way from Indonesia for two days. I was SO happy about it! We only saw each other for a few hours sadly due to my job, but it was such a good time! I was excited meeting her because we haven't seen each other since 2012 and I want to maintain our friendship since. I don't have many close friends in general and when I do, I am trying to maintain the friendships, wherever they come from (because good friends are pretty difficult to find these days)! One day I had a skin reaction to some beauty products for three hours (and kinda panicked somehow) but since I learned not to use too many skin-care products at once - too much of a good thing can sometimes harm your skin!
— December —
In December we visited the local Christmas market, got our Christmas tree pretty late (on the fifteenth!) and a week later our holiday break. We spent Christmas holiday in Ricky's hometown as usual as well as NYE, and at that day we had Sauerkraut for dinner and it was the best food to end 2019! I was beyond happy and grateful for it! We spent NYE all together playing card games and then had some sparkler on the balcony and watching fireworks. Family time is one of my favorite time growing up in Germany, because my own lives in Indonesia and I miss each of them everyday, so I really appreciate this quality time whenever I could, even though it's with Ricky's family (they're like my own!).
So long, 2019! Thanks for being such a good one, one of the best years in my life. I am forever grateful for everything that happened in my way, good and bad. They are part of my life and I feel blessed to experience it all, because I wouldn't be where I am now! 2020 will definitely be one of the best year yet and full of another beautiful memories. Thank you guys so much for following along and I hope you guys had a good one!
until then.